Field Recording and Mixing Services
Nothing beats experience, and we have a lot of it.
Unique Sound Design for Projects of All Sizes
Stickman Sound has been mixing and recording in the field for over 25 years. From a simple single camera one-person recorded interview, to the largest live spectacle on Pay-per-view, we've done it all. We respect that each production has its own process and understand our role. We are experts at adapting and adjusting to give you the best sound possible while helping to keep the show going.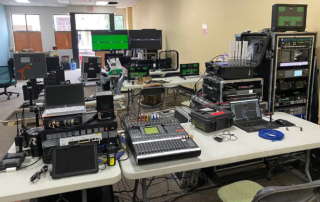 Production Sound Services
Our biggest goal is to make every project (and your life) easier!
We will ask important questions to fully understand your project.

We will hire the right team for your project.

We will bring the right equipment for your project.

We will test and build all gear before it leaves for the field.

We will design and build the best system for your project.

You will always have 24/7 support from our knowledgeable audio pros.
Universal Custom Sound Design
From pre to post-production, Stickman provides customized sound design for all sized projects, formats, and shooting styles.
Our Emmy-winning founder, Fernando Delgado, has personally cultivated and groomed the best sound crew in the business; made up of the most dedicated, capable, and well-trained audio experts around.
Importance of Details
We recognize the importance of detail within every step of the recording process because you may only get one shot to capture the moment or performance.
Some of Our Past Projects
Great

Sound.

Happy

Clients.
We can't wait tohear from you.
Our friendly team of audio engineers are ready to help, anytime, anywhere! Give us a call or fill out the form below and we'll get in touch with you soon.